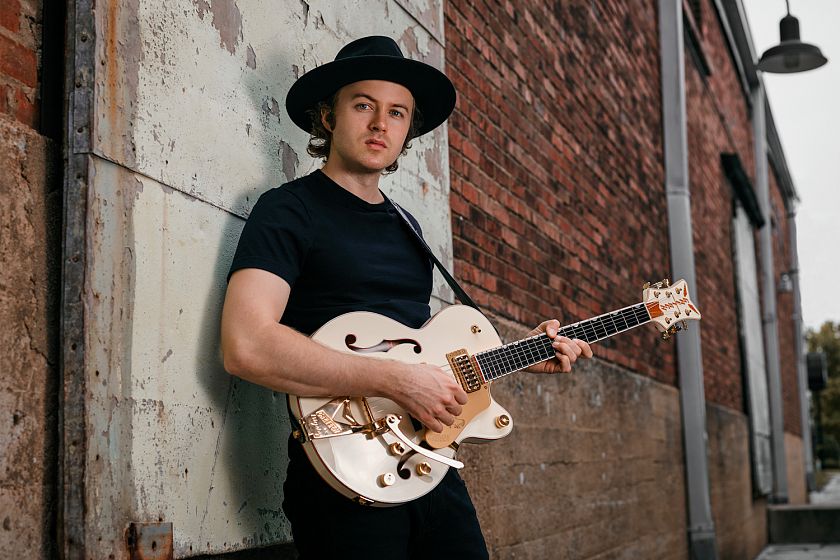 Joe Robinson
Joe Robinson
Joe Robinson is a true force in the pantheon of exceptional artists in modern music, and he has joined an exclusive group of elite performers whose impact continues to shape our unique American musical culture.
On Robinson's seminal new album, Undertones, the Australian native continues to awe and delight with soulful and utterly brilliant, finely crafted songs on both acoustic and electric guitar, and has come into his own as a lyricist. As The Washington Post recently observed, "It's hard not to imagine him rivaling the popularity of say, John Mayer in coming years." There is no doubt that Robinson is at the top of his game, boldly stepping up with mind-bending chord work, solos that literally redefine what can be milked from a guitar, and inspired, melodic singing in his signature tenor voice.
"Creating Undertones was truly a labor of love for me," Robinson reflects. "I elected to produce and mix this album myself. Having been quite busy as a session musician over the past few years, I felt I knew how to get the musical performances I wanted down on tape, so the whole process felt really natural."
The project was recorded on the outskirts of Nashville, where Robinson is based, at The Castle Recording Studios. "It had the perfect laid-back atmosphere for us to lay down the sonic foundation for this record," Robinson added. The historic studio looks true to its name and was purportedly built by gangster Al Capone between 1929-1932.
In addition to Robinson's own skills on guitar and vocal, he solicited help from drummer Pete Abbott (Jaco Pastorius, Average White Band, Randy Brecker, Blood, Sweat & Tears) and bassist Anton Nesbitt (McCrary Sisters, Keb' Mo', CeCe Winans).
Robinson has been performing so much of his life that he's had a lot of time to delve into the emotional process of recording, and takes an unusually philosophical approach to creating music. "Undertones represents the many shades of the human experience. There are songs about love, pain, faith, story songs, satirical moments, and archetypal representations of behavioral truth."
"To me, music is comprised of the technical element, and the spiritual element," he continues.
"I am enamored with the Taoist worldview, as was Bruce Lee, a man I admire a lot. Through this lens, one is exposed to the polarizing elements of our world—the whole world views the beautiful as the beautiful, yet this is only the ugly. The whole world recognizes the good as the good, yet this is only the bad. Thus, something and nothing produce each other. The difficult and the easy complement each other—note and sound harmonize with one another. It seems everything in our world can be deconstructed in this way. Everything has an undertone."
Born into a musical family in the bush country of Temagog, Australia, Robinson began playing guitar when he was just nine years old, eagerly exploring the Internet to expand and deepen his craft. At the age of 13 he won the Australian National Songwriting Competition, and at 15 released his first collection of original material. A monumental achievement followed when he won first place on the "Australia's Got Talent" television show. It came with a $250,000 grand prize.
By his eighteenth birthday Robinson had played more than 1,000 shows, and by the time he celebrated his twenty-fourth he had played over 2,000, an incredible total number of performances logged in a comparatively brief professional career.
Robinson was invited to come to Nashville by his mentor and inspirational savant Tommy Emmanuel. In 2009, for his debut album Time Jumpin', Robinson chose to work with Brad Paisley producer Frank Rogers. At that same time, he was awarded the Senior Grand Champion Performer of the World award at the World Championship of Performing Arts in Hollywood, where no less than 70,000 contestants vied for the top prize.
Such high praise and recognition hardly dampened Robinson's creative energy. In 2011 he released Let Me Introduce You, produced again by Frank Rogers, where his deep excursions into acoustic and electric music only served to solidify his growing reputation as a creative genius.
Various EP projects followed, most significantly Gemini Vol. 2 on which Robinson played every instrument, and produced and mixed all songs. He also deftly expanded his craft as an accomplished vocalist and lyricist, continuing to compose songs that vividly reveal his varied influences, from bluesy shuffles to jazz-tinged solos and truly celestial musical musings that stir and awaken the soul.
Robinson's popularity has rapidly grown as he continues to tour nationally and internationally, treating audiences to his rare virtuosity on guitar and his beautiful singing voice. His fluid and inimitable style has delighted audiences around the world, garnering high praise and prestigious awards from the international music community.
A significant and ground-breaking addendum to his touring schedule was Robinson's participation in Guitar Army, an all-guitar tour de force initially featuring Robben Ford and Lee Roy Parnell, which now features John Jorgenson, along with Robinson and Parnell. This trio concept brought these supremely gifted guitarists together in a truly historic ensemble whose talent and tone are simply stunning.
Robinson's essential influences cannot go unnoticed–he has been able to tour with many of his mentors who have inspired him to reach ever-higher as a singer, songwriter, musician, performer, and recording artist. He continues to tour and play dates with Emmanuel, whose prowess on the guitar is by now a matter of record, and Robinson joins Rodney Crowell as part of Crowell's acoustic trio. Robinson's pairing with Crowell is simply magical. Robinson has also performed with Rodney Crowell and Emmylou Harris together.
Robinson rhapsodizes about his mentors, "When I perform with Rodney, every night on stage I just sit there and listen to the lyrics. He weaves these amazing narratives into his songs. Through his music I have been exposed to Guy Clark and Townes Van Zandt as well as Bob Dylan and Tom Waits. Just being around the genius song craftsman that Rodney is has been a huge influence on me both as a writer and a singer. And the first time I heard Tommy I was so uncomfortable because I didn't know how he was getting all those sounds. I knew that I just had to figure it out. I was just gobsmacked by the power with which he played, and I became determined and obsessed with how I could play like that. I still learn so much from him when we are on the road. I'll be walking past his room in the hotel and I'll hear him practicing. He just cares so much about putting on a good show. When I was sixteen, I got to play with Les Paul at the Iridium, and apparently, he was like Tommy in that he would drive home from the Iridium and listen to the board mix of the show to critique himself. Rodney's the same way. He rewrites his songs –he can spend 25 years on the last verse of a song. This kind of attention to detail has been really inspiring to me. I credit everything that I've been able to do to these wonderful mentors who have so inspired and encouraged me."
All this inspiration surrounds Robinson and informs his creativity. "The more I play music, the less I need to think about it. The less I need to think about it, the more I feel that I can dedicate myself to experiencing the undertones of harmony, rhythm, melody, rhyme and narrative."