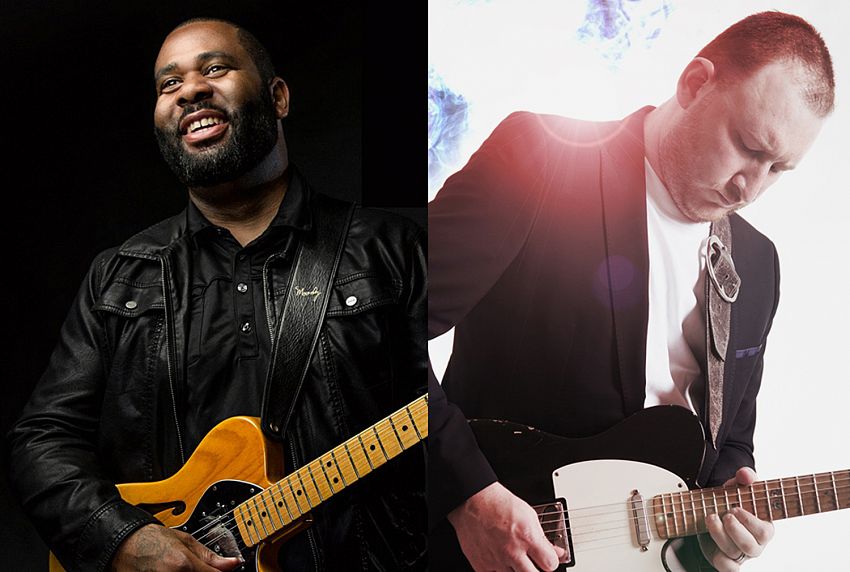 Kirk Fletcher & Josh Smith
Kirk Fletcher & Josh Smith
Kirk Fletcher
Widely considered one of the best blues guitarists in the world, Kirk Fletcher has commanded the respect and acclaim of critics, peers and fans across the globe. He is a four-time Blues Music Award nominee and has played with a variety of popular artists, including a four-year role as lead guitarist of The Fabulous Thunderbirds. He is also the frontman of his own band, having released three studio albums. A live album and a fourth studio album are currently in the works.
Kirk first picked up a guitar at age eight, playing alongside his older brother Walter in their father's church. It wasn't just a gospel influence that Walter shared with Kirk, but an appreciation of many musical styles from Jimi Hendrix to Steely Dan. One of the most important lessons Kirk received from his brother was about having great guitar tone, something Kirk is known for today.
That early experience guided Kirk through high school as a member of the jazz band, and by graduation he was collaborating with friends and taking off on road trip tours around Southern California. Many of those friends have gone on to play with popular artists like Mariah Carey, All-4-One, TLC, and Snoop Dogg. However, pop music was not Kirk's passion. One day he found himself in a small L.A. guitar shop, Music Works, which ultimately became his second home after meeting Jeff Rivera, Robben Ford's guitar tech.
"We started hanging out and I would help load gear, change strings and just be a fly on the wall to some of the most amazing music I've ever heard," Kirk remembers. "The sound of Robben's guitar will ring in my head forever. This was a very important musical time for me because I had nothing to do but play guitar."
It was in the next few years that Kirk's full introduction to traditional blues occurred. He started seeking out other musicians who shared this same understanding – enter Al Blake, lead singer and harp player for the Hollywood Fats Band. After hosting dinner every Sunday, Al would offer Kirk early 20th Century blues records as dessert. He also helped establish connections to other famous West Coast blues artists like Junior Watson and Richard "Lynwood Slim" Duran. So followed Kirk's first gigs as a blues guitarist and eventually the recording of his first album I'm Here and I'm Gone for the JSP label out of England.
Al Blake would also introduce Kirk to Kim Wilson of The Fabulous Thunderbirds, who invited him into his then-project, Kim Wilson's Blues Revue. Wilson brought Fletcher further into the blues family from California to Texas and then out touring the world. One highlight during this time was at Antone's Night Club 25th Anniversary Week in Austin, Texas, which gave Kirk the opportunity to perform with his blues heroes Pinetop Perkins, James Cotton and Hubert Sumlin. Wilson also tapped Kirk to play on his Grammy-nominated Smokin' Joint live album. Shortly thereafter a call to collaborate came from blues legend Charlie Musselwhite, confirming that Kirk was becoming one of the most in-demand blues guitarists on the scene.
"This is where I really developed my own sound and Charlie was cool with me being me," recalls Kirk. It also brought about his second solo recording titled Shades of Blue for Delta Groove Music. "I found a happy place between the music I grew up on and the blues I'd been playing up to that point." Timing couldn't have been better to explore these shades of blues as Kirk collaborated a who's who of blues players on the project, including singers Kim Wilson, Janiva Magness and Finis Tasby. Little did Kirk know that the timing would also line up for an open guitar slot with The Fabulous Thunderbirds around the same time.
So began four years on the road with the Thunderbirds and time spent with many famous blues artists along the way, including a brief stint with the late Doyle Bramhall Sr. and a few guest appearances playing for Cyndi Lauper and Michelle Branch. Kirk contributed to the Thunderbirds' Paint It On album before embarking on another record of his own, a release entitled My Turn on the Delta Groove label. His boldest statement yet, it was also Kirk's first vocal performance. It allowed him to grow and explore as a musician and songwriter steeped in tradition yet unafraid to break new ground. Since then Kirk has been singing and leading his own band between the occasional international tour as a member of blues super-group The Mannish Boys and as lead guitarist for Italian mega-star Eros Ramazzotti. He just finished a live album and is currently in the studio recording his next project.
Josh Smith
Josh Smith was born October 7, 1979 in Middletown, Connecticut. Before he was 1, his family relocated to Florida, eventually settling in Pembroke Pines, a suburb of Fort Lauderdale. At age 3, he received his first guitar and at 6, he started taking guitar lessons.
Josh was exposed to the blues at an early age. He listened to a variety of artists, such as Muddy Waters, B.B. King, Albert King and T-Bone Walker. He also started going to concerts, including the Allman Brothers, Rolling Stones and Bruce Springsteen.
By 12, Josh was playing at established professional blues jams in South Florida, such as Musicians Exchange Café in Fort Lauderdale and Club M in Hollywood, FL.
When Josh was 13, the Rhino Cats, house band at Club M, asked him to be the lead guitarist. Musicians Exchange owner Don Cohen was so taken aback by the talent of this young musician that he offered to help manage and develop Josh's career.
The Café was renowned for bringing in the best national touring blues bands, and Josh was quick to learn how to approach these blues greats, many of whom would invite Josh to sit in with them, thinking it may be a "novelty" to have a 14-year-old kid playing the blues. The novelty quickly wore off and was replaced by musicians stopping, watching and listening as this "kid" wailed out blues licks better than many of the touring guitarists on the circuit. Josh began sitting in with such greats as Jimmy Thackery, Tinsley Ellis, Kenny Neal, Lucky Peterson, Matt "Guitar" Murphy, Johnny "Clyde" Copeland, Double Trouble, Joanna Connor and Kim Simmonds, among others. Jimmy Thackery said of the 14-year-old, "Josh is three heartbreaks away from being a true blues guitar genius." At 14, Josh released his first CD, Born Under a Blue Sign, and at 15, he released his second CD, Woodsheddin.
While performing all over South Florida, Josh Smith and the Rhino Cats quickly became one of the most in-demand blues bands in the area. In 1994, while Josh was only 15, they received the Florida Jammy Award for best blues band and were selected as XS Readers Choice Winners in 1995 for best blues band. In 1996, then a senior in high school, Josh was put on the cover of the national magazine High School Senior, which hailed him as an "Up and Coming Guitar Legend." That same year, Washburn Guitars Int'l recognized Josh's talent and offered him an endorsement. They flew Josh to Chicago and guitar luthier Grover Jackson built him a custom guitar.
Although Josh was an honor student, after graduation from high school in June 1997, Josh followed his heart and began pursuing what he was best at. His first national tour ensued with his newly formed power trio, Josh Smith and the Frost. Josh was now the band leader and vocalist, so he not only had to continue developing his guitar chops, but had to concentrate on his vocal prowess. In September 1997, Josh enlisted world-renowned producer Jim Gaines, whose credits include Santana, Stevie Ray Vaughn, Luther Allison, Steve Miller and Jimmy Thackery, to produce his third CD, Too Damn Cold.
By 1998, Josh had completed four national tours with his band. In January 1998, Billboard Magazine took note of the rising young talent in a Continental Drift article. In February 1998, Josh was asked to support B.B. King on a number of theatre dates. In March 1998, the TV show Chicago Hope purchased the rights to the tune "32 degrees" from Too Damn Cold. An international CD release, The Mentos Freshmaker Tour, included the title cut, "Too Damn Cold," in the spring of 1998.
Josh toured nationally all of 1999 and in October of that year, he entered the recording studio again with Jim Gaines and produced Woman, his fourth CD. This CD was released and well received in the spring of 2000. Josh continued to tour the East Coast from New York to Florida through 2001 with his band. In June 2002, he married and he and his wife decided to move to Los Angeles. Josh was ready for something new and wanted to be around a variety of musicians. He also began being a sideman.
Within a year of moving to L.A., he was retained by Virgin recording artist Ricky Fante. He played nationally and internationally with Ricky for the next two years.
In May 2006, Josh recorded his fifth CD, Deep Roots. A more traditional blues CD, his music was once again well received by Blueswax and Blues Revue magazine. Josh continued to play with a variety of artists, such as actress Taryn Manning, Universal hip-hop artist Benny Cassette and Tara Ellis, to name a few. In January 2007, Josh was hired by 2006 American Idol winner Taylor Hicks to be his lead guitarist. They completed two national tours from February-September 2007 with monthly dates and charity events until June 2008 when Taylor started Grease! on Broadway. In July 2008, Josh was hired by Raphael Saadiq. Since that time, Josh has played such high profile gigs with Raphael as backing Mick Jagger at the Grammy Awards in 2011 and the Kennedy Center Honors in December 2011. Josh continues to tour nationally and internationally with Raphael.
Josh released his 6th studio CD, "Inception," in 2009. This is an all-instrumental CD with a variety of genres that was once again well received by the public and critics alike.
In 2010, Josh was signed to Crosscut Records, a label based out of Germany. Crosscut re-released Josh's CD, "Deep Roots," as "I'm Gonna Be Ready." In October 2012, Josh's CD, "Don't Give Up On Me," was released in Germany.
Josh continues to live in the Los Angeles area with his wife and two children.
Kirk Fletcher & Josh Smith

10:00 PM-11:15 PM

Spinnaker Lounge

Deck 13, FWD

Kirk Fletcher & Josh Smith

6:30 PM-7:45 PM